Parminder Saini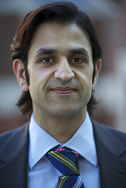 Practice areas
Below is a summary of Parminder's profile, but for more information, please visit his professional website.
Parminder Saini is a barrister practising at the Bar in London. He specialises in public law and human rights, with an emphasis on immigration, asylum and nationality law. He is regarded by his peers as one of the most prominent and accomplished juniors at the Bar in this field. He is known for his formidable legal intellect, his excellent skills in advocacy and his impeccable case analysis and presentation.
As a reflection of his expertise and wealth of experience, Parminder was recently appointed a Deputy Judge of the Upper Tribunal, Immigration and Asylum Chamber. He is one of the youngest barristers to have ever achieved this distinguished appointment.
Parminder possesses an innate ability to delve straight to the heart of any matter and offer simple yet effective advice that will best serve a client's interests and lead to the best outcome achievable. Clients often compliment him for his patient, attentive manner and his unwavering perseverance in pursuing success on their behalf.
If you are a member of the public without a lawyer, you may now contact Parminder and instruct him directly. If you have already instructed a solicitor, you can request them to retain Parminder on your behalf as counsel for your legal matter.
Direct Public Access
Parminder is registered to receive Public Access / Direct Public Access clients and is able to undertake work directly from private clients i.e. members of the public.
Reported cases
For a list of reported cases that Parminder has been instructed in, please visit: www.parmsaini.com/reported-cases. Please note, some of these matters are still ongoing. Several of these authorities establish important principles of law that are used by judges in courts on a daily basis across the country.
Qualifications
Barrister-at-Law (England & Wales)
Attorney-at-Law (New York State, USA)
Personal interests
Parminder's interests away from the Bar include playing a variety of musical instruments ranging from classical piano to Spanish guitar, collecting Artwork and Film memorabilia, World Travel, Porsche motorsports and Classic cars, the history and philosophy of Sikhism. Parminder also prides himself in his continued self-education in several languages; resulting in a basic knowledge of Hindi, Punjabi, Italian, Spanish, German, Japanese and a fluent working knowledge of French.